This post was authored by Will Allen, the director of Strategic Conservation Planning at The Conservation Fund in Chapel Hill, North Carolina. Read Will's bio.
---
With 80 percent of the US population now living in megaregions, conserving nature has become more challenging and urgent. Investments in green infrastructure are critically important to protect and restore natural systems that provide communities with clean air and water and other "ecosystem services" that nature provides us. One way to make this happen is to support a robust, inclusive, and sustainable local economy that produces new economic opportunities around green infrastructure. As legendary urban planning writer Jane Jacobs once wrote: 
"Cities have the capability of providing something for everybody, only because, and only when, they are created by everybody."
Amigos de los Rios is leading this effort in Los Angeles County by fostering the design of a green economy that creates jobs and spurs investment in local multi-benefit projects that provide recreational amenities, stormwater management, cultural heritage interpretation, public health, and community vitality. This story demonstrates that leadership, vision, and data are critical to building the alignment required to move the public to see the benefits.
In 2005, Amigos de los Rios began planning and designing a 17-mile loop of parks and greenways (often underutilized spaces owned by public agencies) along the Río Hondo and San Gabriel Rivers on the east side of Los Angeles that would connect nearly 500,000 residents. The plan's parks and greenways will provide desperately needed recreational areas for communities suffering from urban decline and the associated social and health issues. In 2008, the vision was expanded to help unify all of Los Angeles County, from the desert through the San Gabriel Mountains to the Pacific Ocean.
---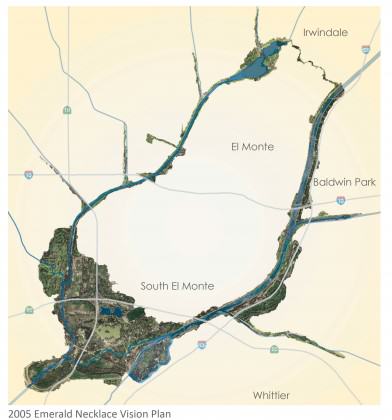 The Emerald Necklace of east Los Angeles County. Credit: Amigos de los Rios
---
In 2012, Amigos de los Rios commissioned The Conservation Fund to take a fresh look at how to design and use green infrastructure to reconnect people and wildlife with the county's lands and waters. The 2014 Emerald Necklace Forest to Ocean Expanded Vision plan calls for a strategically managed and interconnected network of parks, rivers, and lands designed to reinvent Los Angeles County as a more natural and healthier place to live, work, and play for decades to come. 
This plan focuses on eight mutually-reinforcing goals under a common vision and advocates for a network of equitably distributed walking, biking, and riding trails; functional and multi-purpose natural and built spaces; multi-benefit amenities that protect water quality and assure ample water supply; and regional wildlife and natural area "anchors" that should be enhanced and restored. 
That is not all the plan does, however; it also outlines a strategy to foster a robust and durable economy in which quality conservation jobs and service opportunities are created to support the protection and restoration of the region's natural and cultural resources, advocates for investment in training and resources for new green collar job opportunities within economically disadvantaged communities in Los Angeles County, and recommends support for youth conservation corps involvement in urban forestry and green infrastructure. It challenges communities to identify novel funding streams and mechanisms to promote the Emerald Necklace as an economic incubator for the next generation of social ventures, helping community-based groups and non-profit organizations build capacity and scale up urban greening solutions. In addition, it outlines best practice examples from the region that demonstrate the opportunities for a greener economy.
---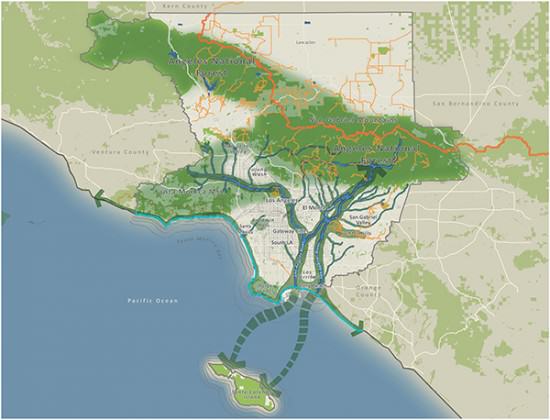 Expanded Vision Plan Map. Credit: The Conservation Fund, Amigos de los Rios, Hawkins Partners
---
The 2013 Los Angeles River Ecosystem Restoration Integrated Feasibility Report analyzed the regional economic development impacts of the proposed Los Angeles River Restoration projects. It determined that the proposed alternatives would create between 2,200 to 14,100 construction-related jobs that could generate labor income ranging from $138 million to $860 million. Regional economic activity from construction is expected to increase by $260 million to nearly $1.5 billion, taking into account ecosystem restoration, recreation, and redevelopment construction work. Finally, the report estimates that between 630 and 2,700 permanent jobs will be created and total labor income from these employment opportunities will be between $900 million and $4 billion.
The 2011 Water Use Efficiency and Jobs report estimated the economic and job creation impacts that would result from investments in water use efficiency in Los Angeles, taking into account a broad range of projects that include stormwater capture and treatment infrastructure, grey water systems for homes, ecosystem restoration, groundwater treatment and recharge equipment, and more. The report estimates that each $1 million invested in water efficiency projects results in 12.6 to 16.6 jobs in Los Angeles' economy and $1.91 million to $2.09 million in total sales. These projects in particular also carry many local benefits and offer high multiplier effects for local manufacturing, professional services, utilities, and wholesaling establishments.
Since completion of the Emerald Necklace plan, millions of dollars have been invested in both Los Angeles County and the City of Los Angeles to support these goals through the construction of parks and trails, tree plantings, and habitat restoration and conservation. Amigos de los Rios and partners have built and continue to maintain numerous community parks and greenways as part of the Emerald Necklace plan, including Gibson Mariposa Butterfly Park, Peck Water Conservation Park, El Monte Veterans Memorial, and more. 
The journey to a greener economy in Los Angeles County is ongoing. The key to lasting success will be instilling "a fierce sense of urgency" among the many partners in Los Angeles County that are needed to make this vision a reality. The Emerald Necklace plan encourages cities, counties, school districts, water agencies, and public health and environmental groups to collaborate on green infrastructure investments that will provide high returns on investment for people and nature.
---
Thanks to Claire Robinson from Amigos de los Rios and Mike Houck at the Urban Greenspace Institute for their assistance in preparing this article.